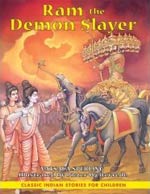 Ram the Demon Slayer
By Vatsala Sperling with illustrations by Pieter Weltevrede
Publisher: Bear Cub Books (January 2006)
Pages: 32 - Price: $15.95
Reading Level: Ages 6 to 9

Review by Lee Prosser - leep@ghostvillage.com
Kids.Ghostvillage.com review

Continuing in their classic Indian stories for children, this magnificently illustrated book is adapted from the epic Hindu story about Ramayana. The story follows Ram from his conception and birth through his successful training, marriage to the princess Sita, and his victory over the demon king Ravana. Ram is revealed as an honest and compassionate hero, and brave.

This will have a high appeal for children. The illustrations are in color and will catch all readers' attention with their descriptive insights. Listed under folklore, for ages 6 - 9, it is the kind of children's book with a wide appeal.

This is a great way for children to learn about Ram and see the story illustrated. A fine folklore book for children to read, and one they will enjoy.


Click here to buy this book now.