About Professor Perry J. Normall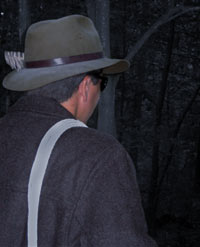 Professor Perry J. Normall has been exploring the unexplained since his mother gave birth to him in the basement of a very haunted and abandoned Victorian home in central New England. His parents were the renowned ghost hunters, Marcus and Ima Normall, who disappeared right after the birth of their only son, Perry. The legend goes that Perry spent the first several years of his life being raised by the ghosts in that old house. No one can be sure because there are no records from those early days. What we do know is that Perry Normall has devoted his entire adult life to uncovering the greatest mysteries of our time.
Professor Normall has roamed the world over looking for ghosts, monsters, UFOs, and anything else that goes bump in the night. He'll be writing about his adventures here on
Kids.Ghostvillage.com
for all to see. Think of him as your ghost-host-with-the-most. He's also currently writing his memoirs, which he expects to publish in the coming years.