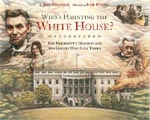 Who's Haunting the White House?: The President's Mansion and the Ghosts Who Live There
By Jeff Belanger, Illustrated by Rick Powell
Publisher: Sterling (October 2008)
Pages: 64 - Price: $14.00
For ages: 9 to 12

Interview by Lee Prosser - leep@ghostvillage.com

Who's Haunting the White House? is Jeff Belanger's first children's book, and it will entertain you with its innovative and imaginative scope. It is something both children and adults will find enjoyable reading. Jeff, this is a fine book! What inspired you to write it?

Jeff Belanger: Since I began writing about historic, haunted places, I've had the chance to speak with tour guides, docents, and historians at many great locations around the world. I recall speaking with a guide at Fort Calgary in Alberta, Canada, about one of their haunted buildings. He told me that the guides were inundated with questions about their ghosts from the many school groups that came to visit. It struck me that ghostly legends were a great opportunity to teach history, because you can't know much about a ghost unless you travel back in time to learn about them in life. The history sets the stage for the modern-day ghost accounts.

I have had a love of history for as far back as I can remember. When you stand in a location where history was made, you drink in a sense of the spirit of that place.

The White House has been one of my favorite haunts since I wrote about it in my first book, The World's Most Haunted Places. The history of the building is intertwined with American history, and the witnesses of ghostly phenomena there are highly credible considering their positions. The location was perfect for my first book for children considering all of the historic photos and documents that were available, and of course, because of the many ghostly legends that have floated out of 1600 Pennsylvania Avenue over the years.

Was there a lot of research involved in putting this book together?

This was the most research-intensive book I've ever written. It's also my first book about a single location, which means I had to submerge myself in the history and lore of the building, and the back-story surrounding its placement, construction, and use.

The next challenge was distilling the history and story down to a reasonable length, and ensuring that those old factoid bones didn't slow down the pace of the reading.

My visit to the White House was a great highlight during my research. I went to Washington, DC with my dad, took the tour of the building, and interviewed some of the staff. Standing in those hallowed halls was incredible. I stood where every president once stood. You can feel the magic in the air.

What were some of the most interesting aspects of the ghost material you came across?

The fact that multiple Presidents referenced the ghosts in some way was really intriguing to me. Ronald Reagan mentioned that his dog used to bark wildly near the door to the Lincoln Bedroom and would never go in. Jimmy Carter's daughter allegedly used a Ouija Board in the Lincoln Bedroom, and of course Harry S. Truman mentioned the ghosts several times in his letters to his wife, Bess. To quote Truman, "The place is haunted, sure as shootin'."

Then there are the accounts of some of the staff, aides, and other folks who have been inside of the White House and had some brush with the unexplained. Many of these folks are highly credible, historic figures.

Do you feel that public acceptance of ghosts at the White House by many people is a growing sign that people are more open to such paranormal situations?

The paranormal has gone mainstream, there's no doubt about that. Between the television shows, books, magazines, audio programs, and Web sites, it's clear that the public is hungry for more information and content on the unexplained. All of these factors have influenced broader society to the point where it's not so strange to talk about these subjects anymore. I think some people will figure that if the White House can talk about their ghosts, then they can too.

Is this debut children's book the first in an interesting line of ghost stories for children?

I sure hope so! I'm currently working on two other children's books. One of them is on another paranormal topic. Younger readers are no less curious about the mysteries of the universe than adults. In fact, I think younger people are even more hungry to explore these mysteries than adults. We should always encourage learning and question asking. Kids are smart -- they'll make up their minds as to what's real and what is not.

What did you enjoy most about writing your book? Did you get some encouragement from your young daughter, Sophie, and your wife, Megan?

The White House is a big story. Really big. If you were to draft a comprehensive history of the building and the people who lived and worked inside, you'd have enough books to fill many libraries. I enjoyed the challenge of telling the story in a succinct way, while focusing on the more human side of these historical figures. The Presidents were also family men who had struggles and triumphs like the rest of us. And some of them had supernatural encounters, and perhaps others are still hanging around out of a sense of duty to their country. I loved focusing on that aspect of the story as opposed to filling the book with dates, statistics, and figures.

My family has always been supportive of me. My wife, Megan, has always been my first reader and editor, and I simply couldn't do what I do without her. As for Sophie, though she's still a toddler, she encourages me just by being herself: a curious, funny little person who looks up to me and makes my heart melt with just a grin.

What was your reaction to President Truman's statements about ghosts in the White House?

If President Harry S. Truman says the White House is haunted, that's good enough for me. Sure as shootin'!

What was your most favorite experience in writing this book?

My visit to Washington and the White House was really something special. The trip wouldn't have been possible without the help of my Congressman, Richard Neal, and without the support and cooperation of librarians at the various presidential libraries, and of course the White House staff who took the time to speak with me. It was an honor to be able to tell this story, and it was humbling to be taken seriously by these civil servants.

Jeff, this is a great reading experience, and children should enjoy it! It has, as always, been a great experience to interview you and have you share your views with the readers. Thank you for sharing. Is there anything in closing you might wish to share with the readers?

I hope people will see the value in not only the ghostly legends of the White House, but also the folklore and first-hand accounts that are found in just about every town throughout the world. Kids and parents could do worse than spending some quality time together legend tripping in their own backyards.

Visit Jeff Belanger's Web site at: www.jeffbelanger.com

Click here to buy this book now.